Info at a Glance
 Business Hours:

Monday to Thursday  10am to 6pm
Friday                    10am to 5pm
Closed Saturday, Sunday & Holidays
 58 Main Street
Flin Flon, MB, R8A 1J8

Phone # 204-687-3397
Fax #     204-687-4233

The Flin Flon Public Library offers Books, Audio Books, Magazines and DVD's for lending
A beautiful, newly designed children's area, complete with Lego table, and toys for your enjoyment
New Release: Staff Picks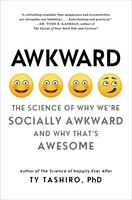 As humans, we all need to belong. While modern social life can make even the best of us feel gawky, for roughly one in five of us, navigating its challenges is consistently overwhelming—an ongoing maze without an exit. Often unable to grasp social cues or master the skills and grace necessary for smooth interaction, we feel out of sync with those around us. Though individuals may recognize their awkward disposition, they rarely understand why they are like this—which makes it hard for them to know how to adjust their behavior.
Psychologist and interpersonal relationship expert Ty Tashiro knows what it's like to be awkward. Growing up, he could do math in his head and memorize the earned run averages of every National League starting pitcher. But he couldn't pour liquids without spilling and habitually forgot to bring his glove to Little League games. In Awkward, he unpacks decades of research into human intelligence, neuroscience, personality, and sociology to help us better understand this widely shared trait. He explores its nature vs. nurture origins, considers how the awkward view the world, and delivers a welcome counterintuitive message: the same characteristics that make people socially clumsy can be harnessed to produce remarkable achievements.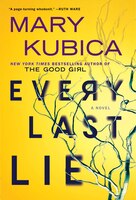 Clara Solberg's world shatters when her husband and their four-year-old daughter are in a car crash, killing Nick while Maisie is remarkably unharmed. The crash is ruled an accident until the coming days, when Maisie starts having night terrors that make Clara question what really happened on that fateful afternoon. 
Tormented by grief and her obsession that Nick's death was far more than just an accident, Clara is plunged into a desperate hunt for the truth. Who would have wanted Nick dead? And, more important, why? Clara will stop at nothing to find out—and the truth is only the beginning of this twisted tale of secrets and deceit. 
Told in the alternating perspectives of Clara's investigation and Nick's last months leading up to the crash, master of suspense Mary Kubica weaves her most chilling thriller to date—one that explores the dark recesses of a mind plagued by grief and shows that some secrets might be better left buried.