Info at a Glance
 Business Hours:

Monday to Thursday  10am to 6pm
Friday                    10am to 5pm
Closed Saturday, Sunday & Holidays
 58 Main Street
Flin Flon, MB, R8A 1J8

Phone # 204-687-3397
Fax #     204-687-4233

The Flin Flon Public Library offers Books, Audio Books, Magazines and DVD's for lending
A beautiful, newly designed children's area, complete with Lego table, and toys for your enjoyment
Calendar of Events
Highlights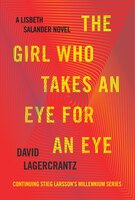 Lisbeth Salander, the girl with the dragon tattoo, the brilliant hacker, the obstinate outsider, the volatile seeker of justice for herself and others—even she has never been able to uncover the most telling facts of her traumatic childhood, the secrets that might finally, fully explain her to herself. Now, when she sees a chance to uncover them once and for all, she enlists the help of Mikael Blomkvist, the editor of the muckraking, investigative journal Millennium. And she will let nothing stop her—not the Islamists she enrages by rescuing a young woman from their brutality; not the prison gang leader who passes a death sentence on her; not the deadly reach of her long-lost twin sister, Camilla; and not the people who will do anything to keep buried knowledge of a sinister pseudoscientific experiment known only as The Registry. Once again, Lisbeth Salander and Mikael Blomkvist, together, are the fierce heart of a thrilling full-tilt novel that takes on some of the most insidious problems facing the world at this very moment.
News and Updates
Latest Children's books at the library!
2016 year in review 2015 year in review
Adult New Release Books
Adopt a Shelf Program
Thank you FFNRC for providing funds for Panic bar replacement